Frank Duveneck
Selected Works
Biography

Frank Duveneck (1848-1919) Photo courtesy of the Kenton Co. Public Library, Covington.

Frank Duveneck was born on October 9th, 1848 as Frank Decker in Covington Kentucky, across the river from the Ohio border [2]. His parents were German immigrants and his father, Bernhard Decker died in a cholera epidemic when Frank was only a year old [3]. The following year Frank's mother married a businessman named Joseph Duveneck. Frank was informally called Frank Duveneck until he changed his name in 1886, the year he was married to Elizabeth Booth Duveneck.


Duveneck began painting in his early teens and was employed as an assistant to Wilhelm Lamprecht (1838 – after 1901), a successful German-born decorator [2]. With Lamprecht he decorated coaches and painted signs. By the the early 1860's his artistic gifts were sufficiently noted and he was apprenticed in an altar-making shop called the Institute of Catholic Art. He was also taught by religious painter Johann Schmitt [1]. In 1869, Duveneck traveled to Munich at age 21. He intended to continue his study of church decoration. However, he soon became interested in becoming an easel painter and in 1870 enrolled in the Royal Academy of Fine Arts in Munich. He studied under Alexander Strahuber (1814-1882) and Wilhelm Diez (1839-1907). Some of his best works, including the well-known "Whistling Boy" (1872, Cincinnati Art Museum), date from this period. They are painted in a vigorous style that reflects the influence of Wilhelm Leibl (1844-1900), who was the leader of a group of young German realists strongly influenced by the Frenchman Gustave Courbet (1819-1877). Duveneck was also interested in the Old Masters, especially the Dutch and Flemish painters of the seventeenth century. His early style, with its generally dark colors and expressive brushwork, was a melding of contemporary German practice with Old Master techniques. [2]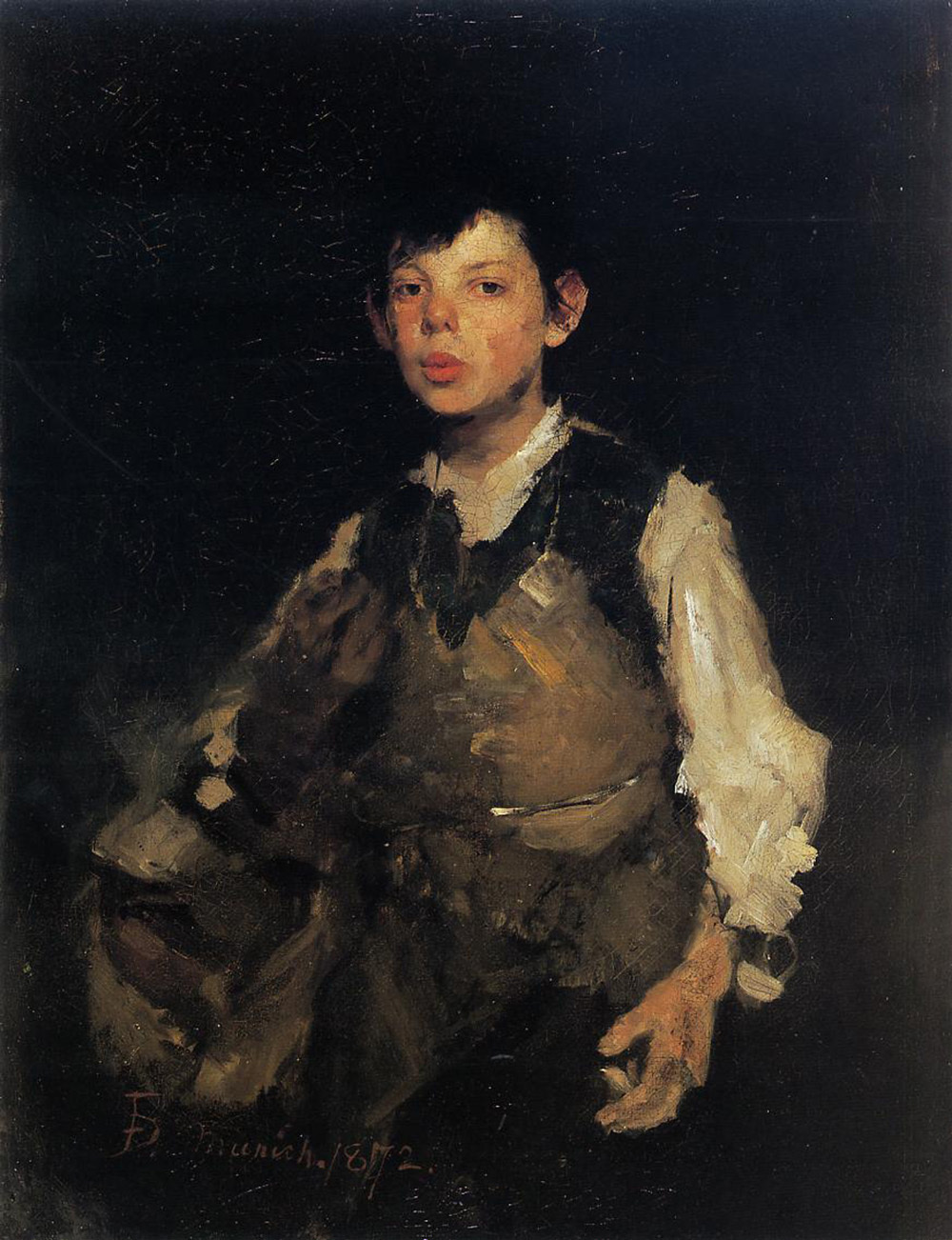 Frank Duvneck, The Whistling Boy, 1872, Oil on Canvas, 27.8" x 21.1"
Gift of the Artist, Cincinnati Art Museum Collection
This painting was originally titled "The Smoking Boy." Art censors at the time forced Frank Duveneck to paint out the cigarette in the boy's hand, leaving us with the painting which now hangs in the Cincinnati Art Museum.

In 1873, Duveneck returned to Cincinnati due to fear of a cholera epidemic. In the following year, he held a small exhibition there of portraits he had painted in Germany. Due to the lack of interest in his Munich Realism style in Cincinnati ,at the time, he resorted to teaching an art class at the Ohio Mechanic Institute. This began his long career as a charismatic teacher. Some of his most prominent students include, Dixie Selden, Robert Blum, Kenyon Cox, Joseph Decamp and John Twachtman. [5]

Duveneck left Cincinnati n 1875 and headed to Boston. His greatest early success came in Boston, when an exhibition of his works created a sensation, largely due to the vitality and spontaneity of his painting style. Although encouraged to settle in Boston and paint portraits on commission, Duveneck decided to return to Europe that same year, taking with him his friend Henry Farny and his young student John Twachtman [5]. He set up a studio in Munich and began to develop a substantial reputation among the many Americans studying in the city such as William Merritt Chase, Walter Shirlaw and J. Frank Currier [5]. Following a trip to Venice in 1877, Duveneck started his own painting school in Munich, which soon attracted numerous artists. His pupils, including approximately twenty devoted young men, affectionally called Duveneck "Old Man" and themselves "The Boys" [5]. This included such artists as Theodore Wendel (1859-1932), John White Alexander (1856-1915), John H. Twachtman (1853-1902), George Hopkins, Louis Ritter and Joseph Decamp. During the next two years, Duveneck and his students remained in Italy, spending the winters in Florence and the summers in Venice [2]. Women from the Anglo-American community joined Duveneck's classes in Florence. Included in this circle was Elizabeth Boott, an admirer of Duveneck since his Boston exhibition in 1875. Duveneck later married Boott after a long courtship in 1886. Her sudden death just two years after their marriage devastated Duveneck. Broken in spirit he turned to the care of their infant son Francis over to his in-laws in Boston and made his way gome to Greenup street in Covington Kentucky. Here Maria Longworth Storer, founder of Rookwood Pottery, made plans for his return concerning the Art Academy of Cincinnati [5].

In 1890 tensions were growing at the Art Academy of Cincinnati, previously known as the McMicken School of Design. It was ran by Thomas S. Noble, his conservative administration was criticized. Due to the lack of variety of classes the call for new instructors trained in Europe was in high demand. After Storer threatened to start her own art academy with Frank Duveneck as her star teacher, the Art Academy brought him on and he became a full time instructor in 1900. One of his most favored students was Dixie Selden, who he referred to as "the little one" [5]. All of his students were highly influenced by his dark Munich Style, however ten years earlier in 1890 Duveneck also changed his painting style to lighter colors and less somber lighting. Perhaps in response to Italian light and subject matter [2]. During this time Duveneck returned frequently to Europe and also taught in Chicago and New York. He won many prizes and served on numerous exhibition juries. He was elected an Associate of the National Academy of Design in 1905 and made a full member the following year. In 1915 an entire room of his works was shown to great acclaim at the Panama-Pacific Exposition in San Francisco, and he was awarded a Special Gold Medal of Honor. Before his death in Cincinnati on January 2, 1919, the artist donated a large and important group of his works to the Cincinnati Art Museum, which remains the center for Duveneck studies.
In 1903 Frank Duveneck was one of the most popular artists in America. Henry James called him "the unsuspected genius" and famed painter John Singer Sargent also declared he was "the greatest genius of the American brush."[1]. He was then commissioned by Bishop Maes to create religious murals for the Roman Catholic St. Mary's Cathedral Basilica of the Assumption in Covington, Kentucky. He painted them in his roomy studio at the Cincinnati Art Museum, a space given to him because of his teaching position with the Art Academy. They were painted on canvas and he worked on them for four and a half years. In December 1909, he put the finishing touches on the last panel. The following month, amid great fanfare and public excitement, the finished three-panel triptych and smaller mural were exhibited in the main entrance hall of the Cincinnati Art Museum. They would be installed in the cathedral's chapel later that May. They were preserved by William E. Blank in 1920 [1].



Frank Duveneck's magnificent triptych mural in the Cathedral Basilica of the Assumption is considered a masterpiece of sacred art. (Photo by Stephen Enzweiler).


Bibliography
Portrait: Frank Duveneck (1848-1919) Photo courtesy of the Kenton Co. Public Library, Covington.
1. Our Rich History: Little-known Cincinnati artist once saved Duveneck's murals from ruin, Oct 17th, 2016 By Stephen Enzweiler, Special to NKyTribune
2. The National Gallery of Art, Frank Duveneck American, 1848-1919, [This is an edited version of the artist's biography published in the NGA Systematic Catalogue] https://www.nga.gov/collection/artist-info.1258.html
3. Wikipedia, free encyclopedia, https://en.wikipedia.org/wiki/Frank_Duveneck#cite_note-1
4. Wikimedia Commons, the free media repository, https://commons.wikimedia.org/wiki/File:Duveneck_Whistling_Boy.jpg5. "Dixie Selden; An American Impressionist" Genetta McLean, J.S. McCarthy Augusta Maine, 2001